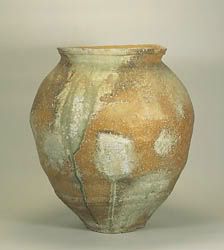 Found this article recently, any thoughts?:
Theology Today, Apr 2004 by Charry, Ellen T
Theology Today is particularly pleased to bring you this special issue on Eastern Orthodoxy. Fortunately, in our day the centuries-old divisions and animosities between the eastern and western churches are giving way to a sensibility of understanding-not only by the passage of time, but also by fine scholarship, the fall of the Soviet empire, and emergence of a common language, English. We are honored to participate in this development with this issue.
We are most fortunate to have the finest leaders of the Orthodox world represented here to bring us into living conversation with a tradition that is rapidly gaining ground around the world but is still unfamiliar to many in the English-speaking west. We are especially honored to have His All Holiness, Ecumenical Patriarch Bartholomew I keynote this issue not only with greetings, but with his blessing and insights into the gifts Eastern Orthodoxy offers the west. We are also deeply grateful to Fr John Chryssavgis for co-editing this issue with us, suggesting themes, potential authors, and making initial contacts on our behalf. In addition, he translated the Patriarch's contribution and edited Archbishop Anthony Bloom's posthumous contribution.
Eastern Christianity differs from western Christianity in stressing different aspects of Christian faith and life. Although the official split between them did not come until the eleventh century, it is feasible to argue that, while east and west were in conciliar colleagueship for eight centuries, linguistic and cultural differences, as well as issues of polity and politics, rendered the unity of the church tentative at least since the Council of Chalcedon (451 ), if not earlier.
While that history trails us, a retrieval of ancient texts that began in the 194Os has produced an avalanche of critical editions, English translations, and popular editions, and fine scholarship on Greek and Syriac theology. Further, the shift in sensibility from suspicion to curiosity about other Christian traditions, fostered by the ecumenical movement, has encouraged outstanding Orthodox scholars and theologians to interpret their tradition to western Christian ears. all of this has given the English-speaking western churches increasing access to Eastern Orthodoxy.
To enter into Orthodox sensibilities, it will be helpful to recall that events that profoundly shaped western Christianity never affected the east. This is partly due to the linguistic and geographic barriers that largely prevented Latin theology from influencing the east, and vice versa, but is also due to cultural differences and even political struggles. There was no Pelagian controversy in the east, so monasticism pressed toward the ideal of perfection unhindered; there was no scholasticization of theology in the Middle Ages, so method never became central; there was no reformation comparable to what happened in Europe, so doctrinal division did not become the foundation of institutional maintenance; finally, there was no confrontation with modernity, so doubt about knowing God never shook the foundations. Each of these is significant for understanding this rich tradition.
First, without a Pelagian controversy, the conviction that every individual is morally and spiritually helpless never took hold of the Eastern Christian imagination. Further, without an Augustine who wrote graphically about hell, or an Anselm who sharpened the west's understanding of sin as a capital crime (a far more punitive view than Augustine ever imagined), fear of divine wrath and the consequent need to soothe the terrified consciences of those who despaired of their eternal future did not become a driving force behind either theology or piety. Salvation remained participation in God's restoration of the world, as it had been in the patristic age, rather than becoming individual rescue from hell, as it did in the second millennium in the west. God and "man" were not at odds with one another quite the way they became in the medieval west.
Second, written reflection on God never moved out of monasteries and into universities. Thus, theology was never methodologized and scholasticized, but remained embedded in and oriented toward Christian piety, especially prayer and liturgical worship. The Christian east did not settle on thinking doctrinally, so there was less need to protect doctrines from distortion or challenge from extra-Christian thought. It held onto the deep humanism that characterizes the church fathers. Thus, theology remained a first-order undertaking in which attachment to God was never separated from knowing God through prayer, perhaps especially the Jesus prayer, and other practices that deepen piety. In the east, reason did not particularly experience itself apart from or over against revelation.
This leads directly to the last experience that western theology has had to bear, the "Enlightenment," but we are getting ahead of ourselves. First we should note the absence of a sweeping movement of reform. The notion of reform of the church arose from the Renaissance recovery of ancient texts. This suggested a pristine past in light of which the present looks corrupt. The east identified no norming conceptual framework against which belief and practice must be measured. This may have its drawbacks, but it does avoid having theologians at one another's throats, each alone claiming to be able to apply the norm correctly and so to have the best interpretation of the tradition. Eastern Orthodoxy is altogether more relaxed than is the western tradition.
Now we come to the last dramatically formative event of the west that Eastern Orthodoxy missed: the Enlightenment. While the development of science, medicine, and technology brought tremendous advantages, it sparked a crisis of confidence in western theology from which theology has never recovered. Indeed, the crisis has only deepened as it was extended from intellectual credibility to moral credibility in the twentieth century.
Despite theologians' tireless efforts, modernity ended up doubting whether we can know God at all-through revelation or through reason. Theologians have been scurrying to establish conditions under which Christianity is at all meaningful ever since. The Christian east has escaped all of this. It therefore remains optimistic about our ability to obey God, the possibility of knowing God, and the restoration of the world by God.
I mention this history to suggest that, unless we westerners remove the criteria of theological acceptability drummed into us by our own history, it will be difficult to appreciate Eastern Orthodoxy for itself. For indeed, one important norm of the modern sensibility is that we seek to understand things objectively, in their own terms so far as possible, and not to impose ourselves and our own values and categories on them, easily dismissing the "other" because he is not us or even like us.
With this caveat, it is perhaps worth noting some of the material differences in emphasis that characterize the Christian east. Although both east and west draw heavily on ancient high Greek culture, they both looked in slightly different directions. The west was more interested in the Hebrew insistence on God's work in history, while the east gravitated toward the Greek philosophical interest in being. The west is always moving toward some as yet elusive eschaton, while the east is more interested in tarrying in the beauty of God that is immediately present. And so, for the west, salvation comes from an event that God effects (Anselm) or a decision that he makes (Karl Earth), while, for the east, salvation is the transformation of the self into the beauty of God.
Because eastern Christianity never hunkered down on human helplessness and depravity, it should not be surprising that it emphasizes the glorious moments of God's restoration of human life-the transfiguration, the resurrection, and the ascension-while, since the Middle Ages, the west has focused on the cross. Further, Orthodoxy's humanism shines forth in the eastern trust of all the senses, especially sight, and its adoration of God through highly stylized art forms. Icon writing is both worship and proclamation, that those who themselves cannot write icons may yet adore God within the limits of their gifts. Icons and liturgy permit another form of intelligence to flourish than that addressed by the complex arguments of western doctrine, and so invite the faithful into a wider range of expressions of piety. Here the enjoyment of God reigns by being in contact not with the promise of God or the covenant of God but with the divine being itself.
To try to put the difference between Christian east and west sharply, we might say that Eastern Orthodoxy sees Christianity as a way of worship in the life of prayer and liturgy, while the west sees it as a way of thought, a set of ideas whose truth is to be perfectly worked out in order to dispel all false notions. Thus, Orthodoxy has a softer feel to it, while the west, with its focus on arriving at the perfect theology, is a constant sparring match. It is quite difficult to converse across such a vast divide. The point of the entire endeavor is differently directed in each case. The norm of inclusivity, diversity, or pluralism that now captivates western Christian sensibility may earn its keep when, in encountering the east, it enables the west to understand, not "the other" but itself more clearly.
Ellen T. Charry