Well it has began our 2nd annual Hepburn Hockey Draft is in session, for those of you that missed the first one I blogged about it
HERE
. We had a small turn over in participants, we have few same guys and few new guys and a few dropped off. Stalin (aka Andrew Bergen) after finishing dead last in the draft decided to retire at the bottom so we wish him well. Chris and Dallas have moved on to college and Iron Drawers (aka Rob Bushman) was also not able to make it, but mostly I think since Yzerman retired so did Iron Drawers.
So here we go this y
ear's participants are:
First we have
D
oc
(aka Ron Sigstad) Ron won our regular season draft and thus I am putting him first. Doc is all about smooth play, last year Doc threatened to fail stu
dents if they beat him in the draft and thus gave himself the advantage. Sure baby face, I mean Doc, did well last time, but this year he can't go around punching every one in the stomach, well for obvious reasons (the restraining order). Picking go
alies first surprised us all but sometimes we all just get caught staring at Doc and forget what time/place we are in, will his naturally good looks pay off this year? Only time will
tel
l.
Second we have
C
agy Vet

(aka Rob Braun) ok ok, we get it we are not in your era, back then goalies had to hold on to the stick with two hands, and the net did not have a net but rather to posts on which you could score from either side, yes Cagy fine I get it. But still doesn't explain your first over
all pick be
ing Gump Worsley.
Third we have
The Fish

(aka Gil Dueck), The Fish has been walking on air ever since Calgary was predicted to win the Stanley Cup. This little sprite
from the kingdom of elves has been sprinkling his stardust of joy every time flam
es have been brought up. Fine yes flames are a favorite, but hearing th
is is like eating wet pile of flat porridge, and for such a big fan The Fish has picked only one flam
e, Daymond Langkow, has anyone seen Daymond Langkow lately? The guy looks like an ex Mo
onie that just spent six months being deprogrammed and is enjoying his first night out in the real world. F
ish made some good picks but really can we allow such joy for a Flames fan?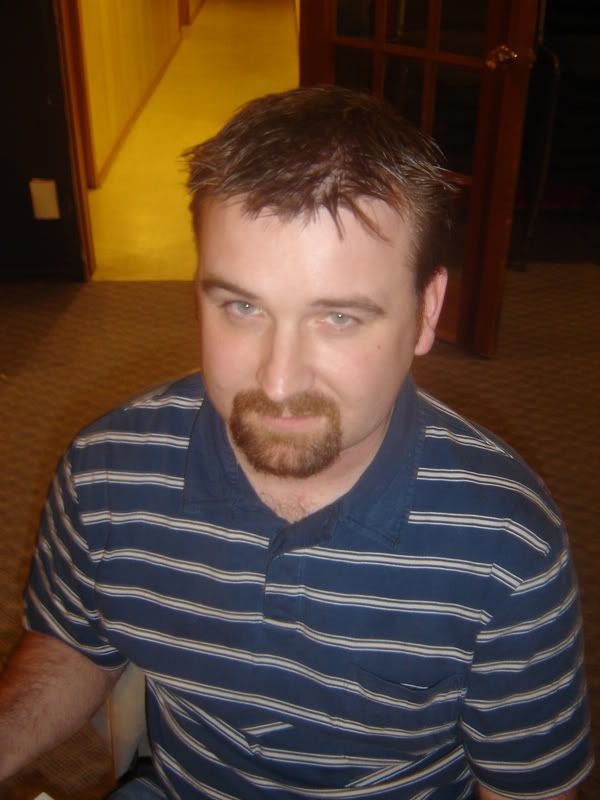 Fourth we have
La
dy
Fingers

(aka Dave Carey) ok honestly no one on earth predicted his team to be in the finals last year, and yet there they were, when reached for a comment Lady fingers basically became an oil painting of a superhero and has been on a high ever since. Well this maverick surprised us all b
y picking Ovechkin first, brilliant and by surprised I mean my pen pal from Uganda who knows nothing about hockey would have made that pick. Well played Lady Fingers well played.
Next we have
Cactu
s Jack

(aka Jeff Peters) well this time Jeff decided to do SOME research and by SOME I mean Jeff decided no
t to ask if the Winnipeg Jets were still in the league. Although picking Drogba and John Terry and explaining that they had a great year with Chelsy was a bit of a give away. I guess picking Ladislav Nagy in the 5th round might not be that bad, he's good for 23 games this year.
This brings us to som
e of the new draftees,
Scooter

(aka Todd Hardy) made his presence known. Making some good picks impressed us all, but was a bit weird when after each pick Scooter kept yelling: "Take that you INFIDELS" I mean its great to have confidence in your picks
and all, just a little s
cary for the rest of us. So let's take it down a notch.
Mr. October

(ak
a Jim Carey) brought in a lot of swagger. Reminding us that he has taught Lady Fingers everything he knows, he picked confidently. I was a bit impressed when he picked Nicklas Lidstrom in the second round. But then all my worrying went away when Mr. October kept picking…Osgood, Torres? Maybe it will work and maybe Pavel Bure is going to come back this year, we can all hope.
Ok here we have
H
igh Card

(aka Dave Murray) why high card, well cause this guy is not afraid of a gamble. Picking Slava Kozlov out of a sleeper pick seems genius if you think the year is 2000 and Kozlov is playing on a line with Larionov and Fedorov for Detroit, and you are amazed at Scotty Bowman's coaching, otherwise this might be the biggest mistake since I tried growing a mustache. Although when these kind of gambles work it just makes you want to run home sobbing and punch holes in your bedroom wall.
And last but not least
we have

The Thrill

(aka Clint Harmon) besides the genius that you can make out in the photo, I would like to add that every draft needs a guy like this, you know one who regularly wears sweat pants, chinese accountant socks and gets real ornery every time you bring up Montreal Canadiens. This is kind of how warriors dress and act in the Congo because they just reach into the Salvation Army bin and grab the weirdest clothing they can find. Only, instead of recruiting young boys to die for the "people's liberation" The Thrill just wants to be comfortable. What does this have to do with the draft I am not sure, he actually picked pretty well, but the image of him will continue to haunt me in my dreams.


Of Course I am in the draft as well, but to explain my draft situation would be like explaining the meaning of the Universe, there are glimpses and pieces that we understand and the rest is so above the logic of man that one should not even attempt it.